Back to list
Agrofarm AG-48
5-8

consumers
Harvest:

up to 12 kg (26.4 lbs.) per month
Size:

2.01 x 1.72 x 0.45 meters
---
Strawberry:

up to 144 kg
(316 lbs.) per year
Tomatoes:

up to 168 kg
(369 lbs.) per year
Lettuce.:

up to 1152 leafs
per year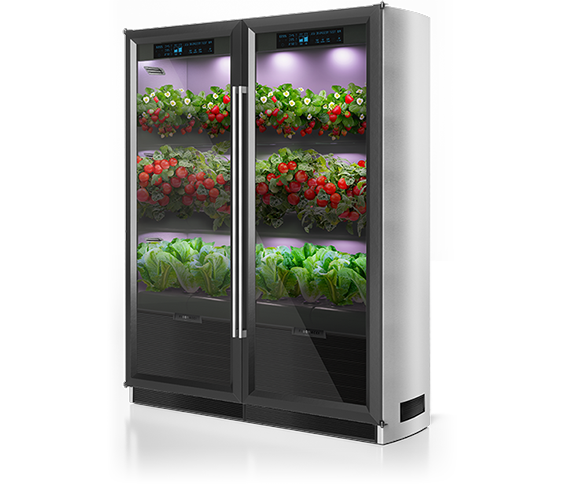 More
Specification
AG48 is the huge expert professional device, produced by Fibonacci for home using and for experimental works either. All innovations of process automation, developed in Fibonacci design office and lab, are applied in this device. There are 48 planting cells (12 modules). It is an excellent solution if you have a plenty spare space (1.68m widths, 2.01m heights). It is perfectly integrated into kitchen set (0.45 depths) or placed into a room, restaurant, laboratory, research institute. AG48 is the best solution for nutrition 5-8 people. This product is the innovation leader of the line, the most sophisticated, and technologically goes ahead its time.
Equipment
Rainbow Spectrum

™ Innovative LED Installation
Plants need sunlight for photosynthesis, but they use only part of light spectrum: red and blue out of all seven. RAINBOW 2Ray is innovation led installation creating light spectrum for fast and proper growth. LED lamps used in RAINBOW 2Ray work longer and consume less energy than regular lamps.
DEW 10 nano

™ Irrigation System
It allows you to water the plants in the automatic mode, according to the specified settings. The system DEW 10 NANO use special nozzles, holes the size of 10 nanometers (10 times thinner than a human hair) that allows you to create the effect of dew and adjust humidity inside AgroFarm.
INTELLIGENT EXPERT

™ App Display Intelligent Control System
Agrofarm and growing process
In the application, you can select presets to grow 70 kinds of crops, manage all AgroFarm systems, keep a diary, see the current settings, learn and communicate with other users of AgroFarm worldwide. This application also has an online store where you can buy all the necessary supplies and related products: fertilizers, seeds, seedlings, and others. The aluminum panel includes multifunction display panel with the current data.
Optional
SMART GLASS

™ Electronic toning using smart glass
It mutes the light from the lamps during daytime photosynthesis. The degree of tinting of glass is regulated by the tablet. If you wish to look at the condition of the plants in AgroFarm, you can just press the button in the app on the tablet and off shading.
Manufacturer's Warranty 2.5 years